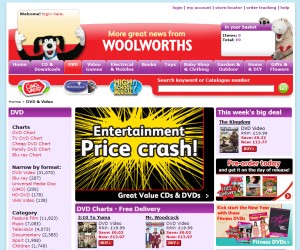 The word on the street {the highstreet} is that Woolies is breaking the mould, and selling all chart DVDs
for under £10
! That includes all *new* releases...
Alan Hunt, trading manager for music and DVD at Woolworths, says: "Staying in is the new going out and over the next month it will be cheaper than ever before to buy a brand new film and settle down for a great night in. Our price drop will help our customers beat the credit crunch while enjoying great films like Sex And The City, Three And Out and Forgetting Sarah Marshall."
So - for a bargain night in, get yourself to Woolies (for once ;)
As the news is fixated on *saving money* I am making Monday's all about crafty stash savers... so read on and reap the rewards of savvy shopping...

Look out for Hobbycraft vouchers in local newspapers *and in scrapbook/card mags!
Also... the best SAVER is FREE... so check back here each Wednesday for giveaways ;)
Stateside (postage will be a killer for UK consumers... but US blog watchers beware ;)
Becks xxx